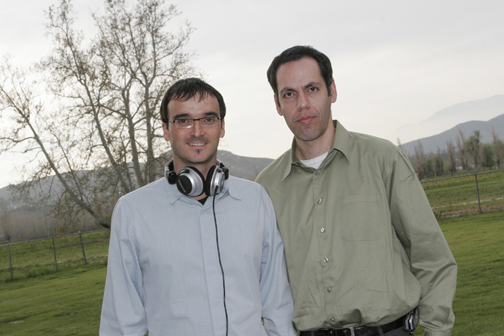 The DJ Pros was founded in 1994 by Alexis Ioannou, a former DJ & radio personality of the legendary KLIK 88.0FM in Athens, Greece, and a veteran DJ of the European dance floors. Noticing a lack in the US market, Alexis aspired to create a DJ company that would combine the music knowledge & skill of the entertainment world, the professionalism & dependability of the corporate world, and the relaxed elegance that has always been the signature style of Europe. Soon the DJ Pros were born!
Initially focusing on elegant weddings, the DJ Pros found their niche with hip Angelenos who were redefining style by putting emphasis on the chic & tasteful as opposed to the rigidly formal. As this new standard gained popularity so did the DJ Pros, and soon they established a reputation as one of the finest DJ companies in this field.
In early 2002, Alexis was joined by DJ CeeKay one of the most talented DJs in Los Angeles, specializing in eclectic events and elegant venues. With more diverse skills, experience in a wider variety of events and a more extensive music catalog, the duo quickly expanded into other event types and was recognized in 2004 as the DJ service "with the broadest possible range of music" in the Daily Candy LA article "Fully Engaged in L.A."
In 2006, in order to answer an ever growing amount of requests for its people-oriented approach to DJing, the DJ Pros welcomed the addition of DJ Fred, who started playing music to crowds in Paris, France, as early as the late 1980's. DJ Fred brought his passion for music and a very diverse musical taste ranging from American and French standards to modern Techno-Dance hits.
Currently the DJ Pros is one of the most reputable and exclusive DJ companies in the greater Los Angeles area. Our mantra is to approach our craft as an art form. We run every part of the process ourselves (booking, planning, DJing) and we never outsource our services. It is this personal involvement that separates us from numerous other excellent DJs as the ones who put true passion into what we are doing and a personal touch in your event!